By Erin Graichen, Membership Program Coordinator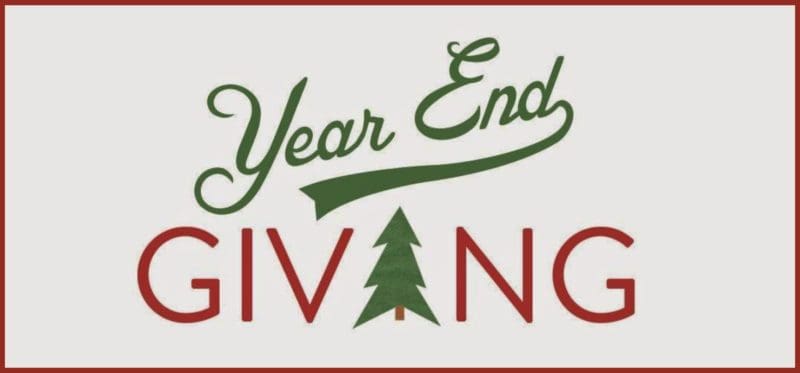 Lake protection is a year-round job. In fact, December could be the best time to raise money for your association or Lake Host program – up to 12% or more of all giving happens in the last three days of the year alone!
Does your association do a year-end appeal?
Many donors will put all of their year-end charitable requests into a pile and sit down and go through them before December 31. If a letter from your group isn't in the pile, you could be leaving money on the table!
Here are a few tips and ideas to help you prepare your group for a year-end ask.
Involve as many people in this annual appeal process as possible. The first step for success is to identify a group of people to help you undertake a year-end appeal. Figure out ways people can help remotely if necessary. And, make it a fun with a note writing social!
Make sure your contact information is current and accurate.  Not everyone is at their lake year round, so having both their seasonal address and their permanent address is essential for success.
Don't assume you know who will respond. You should send your year-end appeal to everyone you know. Build your mailing list to include people you have not heard from in three or four years. There's really no telling who is going to respond.
Be clear about how you plan to use the money raised.  What will the extra money fund? What project are you hoping to accomplish?
Tell a story. Use the perspective of a single person to explain the problem you need your donors to help you solve. For example, tell the story of a Lake Host who found and removed an invasive species at the boat ramp, or a Weed Watcher describing how they volunteer their time and why.
The power of pronouns. There is so much research indicating the importance of using the words "you" and "your" throughout your communications with your donors. Find every opportunity to use them – you really can't over do it! Also, be very careful when using "we" and "our" – make sure you are including your reader when using these pronouns. Example: Good: It is all of our responsibility to keep this lake we love healthy. Not Good: Your donation today will help us keep this lake we love healthy.
Make sure to personalize your letters. If you don't have the capacity to do a mail merge and include your donor's address and salutation in the letter than leave the salutation blank and hand write their names for a personal touch.
Write a P.S. summarizing your ask, and write it first. It will help focus your letter, and studies show 90% of donors read the P.S. first. It should be the most important message or call to action in your letter, so make sure it's powerful.
Include a remittance envelope. Even just a self-addressed return envelope can greatly increase the response rate to your appeal.
Write a handwritten note. Take the time to write notes on as many letters as possible, especially if you know the members personally. Just a sentence or two can make a huge difference!
Make sure your donors get thanked. Everyone who responds to your year-end appeal should hear from you. And, if your group is a 501(c)(3), then you are required by law to respond to every donation of $250 or more with a letter indicating if the donor has received anything of value as a result of this donation.
How NH LAKES can help with your year-end appeal! If your year-end appeal is geared toward raising money for the Lake Host program, NH LAKES can help! Through the Lake Host Charitable Giving Program, NH LAKES will provide your association with:
Customized donation forms,
An online donation page specifically for your group, and
Timely donation receipts mailed directly to your donor.
Just contact us at info@nhlakes.org if you are interested in learning more about the Lake Host Charitable Giving Program.
As always, we would love to hear from you! Was this information helpful? Did it inspire you to do your first year-end appeal?