2020 LAKE HOST PROGRAM

COVID-19 Update: Great news! Our Lake Host Inspectors are classified as essential workers under the Governor's emergency orders. Our lakes must continue to be protected from the spread of invasive species, especially this summer as we know boaters will be more excited than ever to get out onto our lakes!
Lake Hosts work at boat ramps throughout the state, checking boats for hitchhiking aquatic invasive species, and teaching people about the Clean, Drain, & Dry method to keep invasive plants and animals out of our lakes. Each summer, approximately 400 volunteers and 300 employees are trained to work as Lake Host Inspectors.
Grant funds and locally-contributed funds are allocated to Lake Host Employee paychecks. You can add MORE Lake Host coverage to your favorite lake by making a tax-deductible donation today through Lake Host Charitable Giving! To donate, click here.
2020 Lake Host Payroll Grant Applications
The deadline for submitting Lake Host Payroll Grant Applications has passed. If your group missed applying for the 2020 program, contact us at lakehost@nhlakes.org or call 603.226.0299.
Program Information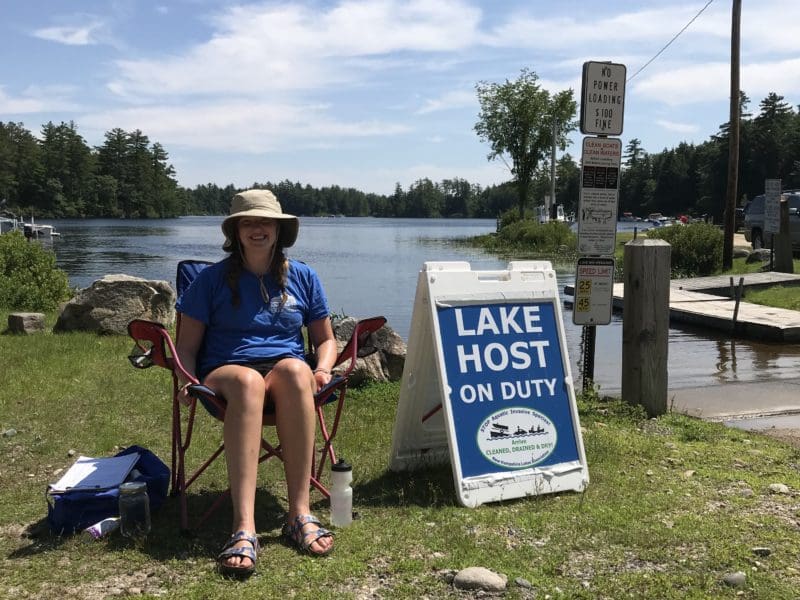 Working or volunteering as a Lake Host is a fun way to get outdoors, meet others in your community, and help protect lakes from aquatic invasive species. Become a Lake Host and make a difference in your community!
Position Descriptions
Documents for Local Coordinators
Local Coordinators must complete the Lake Host Employee Hire Referral Form to begin the remote hiring process for 2020. Completion of this form is required and replaces the in-person submitting process of employment forms.
Documents for Employees
Documents for Volunteers
Resources and Training Information
NH LAKES provides training, uniforms, and materials for all participating local groups.
Boater Survey Resources
COVID-19 Resources 
Training Information
Registration is required for all training sessions.