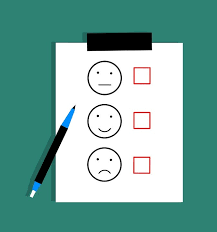 By Erin Graichen, Membership Coordinator
When is the best time to send membership renewals? What issues are our members most concerned about? How can I gauge our members' feelings on a specific issue?
Online surveys can be useful for a lot of reasons. They give people a way to express their opinions anonymously and provide the survey collector with useful data with which to make more informed decisions.
Creating an online survey in SurveyMonkey or Google Forms is simple (and free!). If you have a Google account, click here to see how to create a form.
Google Forms can be completed by anyone with an internet connection. If you do not have a Google account, consider SurveyMonkey as an alternative.
Tips for creating a survey:
Have a clear purpose in mind. You should know what information you need and what you plan to do with the information once you receive it. Asking your members for this favor is only worth it if you know the results will be put to good use.
Keep it short. If possible, keep it to fewer than ten questions that follow a logical order. Ask one specific question at a time, and only ask the necessary questions.
Ask "closed" questions. Closed questions provide a list of acceptable responses (e.g., multiple choice, checklists, etc.). Open-ended questions that require members to type in their own answer increases survey abandonment. You can add "Other" as an option and allow your members to elaborate if they wish. Closed questions also allow for better data, since your responses are already sorted or categorized.
Avoid biased questions. If you want honest answers, leaving out adjectives and descriptive words and phrases will help you get an unbiased answer.
Speak their language. Not everyone knows what a Secchi disk is (or how to spell it), so be clear if you are using scientific terms or terms your survey group might not be as familiar with.
Rephrase "Yes" or "No" questions. Offer a range of choices instead. For example, avoid asking "Is there too much traffic on I-93?" and ask "How pleased or displeased are you with traffic on I-93?"
Test your survey before you send it out. Have a few friends take it for a test drive to avoid any embarrassing errors!
Also, check out this guide on surveys that includes sample survey questions: 100 Donor Survey Questions (Source: Classy).
Let us know if you found this information useful! If you have questions, please contact us via email or give us a call at 603-226-0299.