PREVENT THE SPREAD OF AQUATIC INVASIVE SPECIES
Boaters: Take the Pledge to Be Invasive-Free!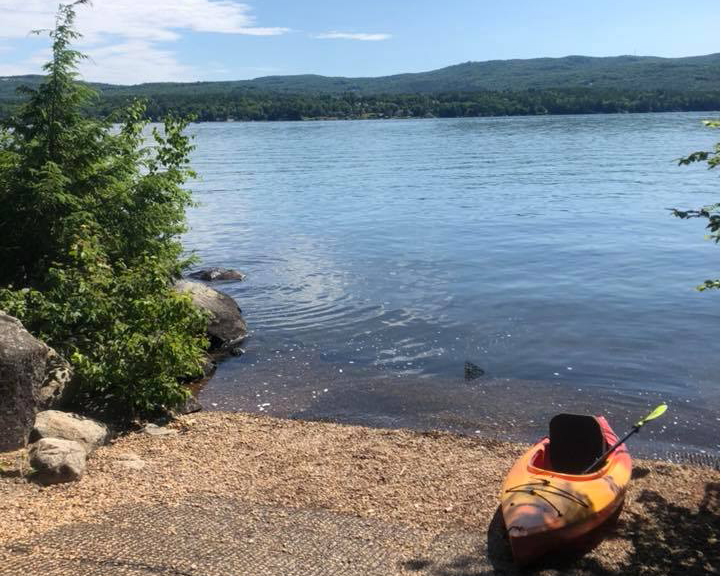 Are you a boater?
If you boat, you can help stop invasive plants and animals from spreading lake to lake—always take time between different lakes to clean, drain, and dry your boat, trailer, and gear. For information on the Clean, Drain, & Dry method, click here.
To view our Aquatic Invasive Species Identification Flyer, click here.
Do you have water access to a lake?
If you have property access to a lake, teach your guests and renters that bring boats about the Clean, Drain, & Dry method for preventing the spread of aquatic invasive species. Request a supply of free brochures explaining how by emailing lakehost@nhlakes.org.
MONITOR AND MANAGE INVASIVE SPECIES
Help spot aquatic invasive plants and animals before they take over the lake!
Become a trained Weed Watcher and check the lake a few times each summer to spot any unusual plants or animals. The only equipment you will need is a boat, a partner, and a nice day! To find out more, click here.
Get trained to remove invasive plants like milfoil from the lake!
Participate in the New Hampshire Department of Environmental Services' Weed Control Diver Program. To find out how to become a certified Weed Control Diver or tender, click here.
BECOME A LAKE HOST
Teach boaters how to prevent the spread!
Working or volunteering as a Lake Host is a fun way to get outdoors, meet others in your community, and help protect lakes from aquatic invasive species.
Lake Hosts work at boat ramps throughout the state inspecting boats for hitchhiking aquatic invasive species and teaching people about the Clean, Drain, & Dry method to keep invasive plants and animals out of our lakes.
Become a Lake Host and make a difference in your community! Just tell us where you're interested in working or volunteering and we will help get you set-up—click here.
Donate to the Lake Host Program at your favorite lake!
Your financial contribution goes directly to paying the salaries of Lake Hosts protecting the lake from the spread of invasive species. Add MORE coverage by making a tax deductible donation today. To donate, click here.
Bring the Lake Host Program to your local lake!
We can help you start an invasive species prevention program to suit your lake and group's needs. Contact us at lakehost@nhlakes.org or (603) 226-0299.
PROVIDE BOATERS WITH SPREAD PREVENTION TOOLS
NH LAKES works with boat access site owners and local partners to provide boaters with information and tools to prevent the spread of invasive species. Download our free guide below:
"Best Available Technologies for Aquatic Invasive Species Spread Prevention"
And, to invite NH LAKES to do a free evaluation of a local boating access site and provide recommendations on tools and technology that could help boaters prevent the spread of invasive species, fill out our inquiry form—click here.