The Lake Host Program
Clean water, happy wildlife, and stable property values depend on a healthy lake, free of invasive species. The NH LAKES Lake Host Program is the first line of defense in keeping our lakes free of invasive plants and animals.
Through this nationally-recognized aquatic invasive species education and prevention program, each summer hundreds of individuals trained as Lake Hosts inspect boats, trailers, and gear for hitchhiking plants and animals. They teach thousands of boaters each year about Clean, Drain & Dry method for aquatic invasive species prevention.
Since 2002, our Lake Hosts have conducted over one-million courtesy boat inspections and have made nearly 1,600 'saves' of invasive species that had just hitchhiked out of a lake or were about to be launched into a lake. The number of additional 'saves' Lake Hosts have contributed to by inspiring boaters to always Clean, Drain, & Dry their boat trailer and gear, even when a Lake Host isn't at the launch to help, is immeasurable!
To see a list of what 'saves' were made at what lakes in 2020, click here.
To see a list of what 'saves' have been made since 2002, the beginning of the Lake Host program, click here.
See the infested waterbodies listed by state by clicking here.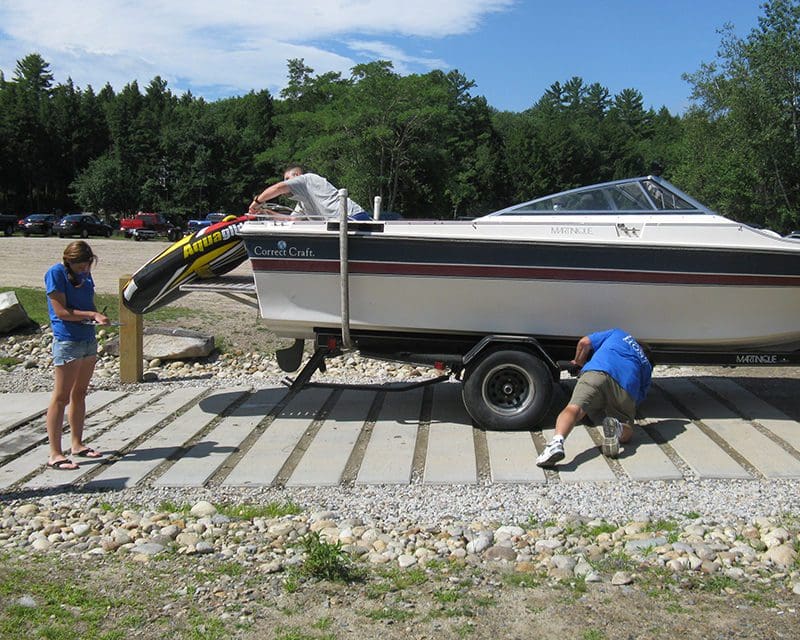 Where can you expect to see a Lake Host on duty? Check out our interactive map below or simply look for the iconic Lake Host uniform—a royal blue t-shirt and a big smile!
Start a Program: Bring the Lake Host Program to your local lake in 2020. Lake Host Payroll Grant Applications will be accepted until Friday, March 20, 2020. To learn more and apply, click here.
If you would like to start a Lake Host Program at a boat ramp (public or private), but missed the deadline, contact us—email info@nhlakes.org or call (603) 226-0299.
Join a Program: Interested in working or volunteering as a Lake Host? Tell us what lake(s) you would like to be stationed at—fill out our inquiry form here.
Donate to a Program: Help support the Lake Host Program at your favorite or local lake by making a financial donation. All of your contribution goes directly to paying the salaries of Lake Host employees. You can add MORE coverage by making a tax-exempt charitable contribution today. Click here to donate!