OUR LOCAL PARTNERS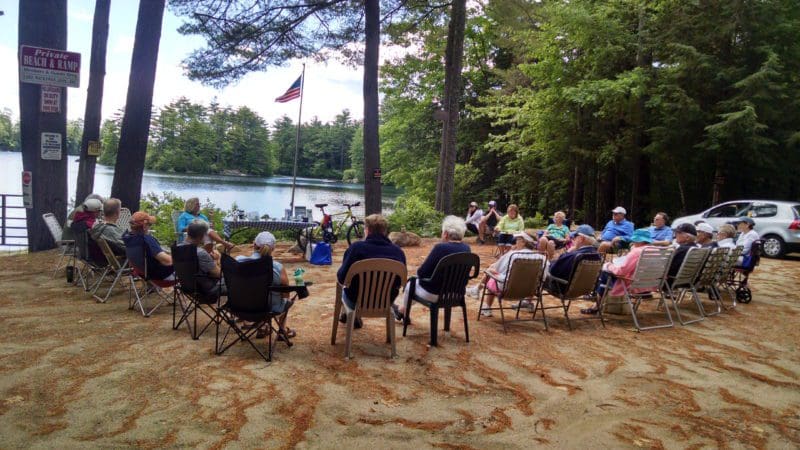 There are vast numbers of people around many of the 1,000 lakes of New Hampshire, in our lake communities, and among the millions of visitors to New Hampshire, that love lakes or have a lake special to them.
Over 100 years ago these 'lovers of lakes' began forming groups working to ensure that favorite lake would remain clean and healthy for generations to come. Those of us who do this work understand that it takes many people working together to maintain healthy lakes. NH LAKES is part of that fabric, having been created by local groups to work and advocate statewide for all of our lakes.
Today, NH LAKES works with thousands of individuals and hundreds of groups, many of them focused on just one lake or a group of lakes connected by water or by community. These 'local partners' are essential to achieving our shared mission of clean and healthy lakes.
People working in, on, or around the lake, alone or in groups, are key to every lake's long-term health. NH LAKES brings the power of these individuals and local groups together to influence public policy, to provide programs to each lake in an efficient and systematic way, and to create critical mass and attention within our greater society of the value and the needs of our lakes.
Our local partners include:
Individuals, families, or groups of lakefront property owners, often sharing a camp, road, beach, or cove.
Larger organized groups such as lake, pond, or watershed associations.
Municipalities and their respective boards and committees, such as Conservation Commissions.
Other conservation organizations, including land trusts, whose missions overlap with ours.
Any individual or group that values the long-term health of our lakes.
If you are a partner of NH LAKES and are looking for helpful tools and resources, you can learn more here.
Click here for list of our local association partners