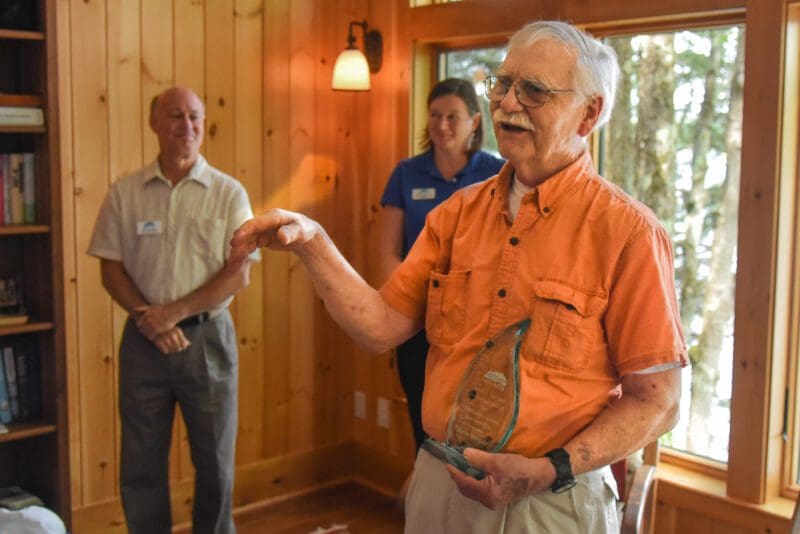 Concord, N.H., August 19, 2023 – NH LAKES recently awarded the 2023 John F. Morten Memorial Award for Exemplary Lake Stewardship to Steve Wingate, Lakes Region resident and steward of Mirror Lake in Tuftonboro, New Hampshire.
"Steve Wingate has had an enormous impact on educating lake residents about the importance of caring for the environment around us," explained Joanne Huyler, one of 16 individuals who nominated Steve. "He has not only set the example but has actively assisted a generation of people in following in his footsteps."
Steve serves on numerous local, regional, and statewide organizations and projects that protect New Hampshire's lakes, wetlands, and forests. They include the Tuftonboro Conservation Commission and Milfoil Committee, UNH Lakes Lay Monitoring Program, Lakes Region Planning Commission, Lake Winnipesaukee Association, Wolfeboro Waters, Lakes Management Advisory Committee, Carroll County Conservation District, and the Great Meadow Wetlands Project.
Steve was awarded the 2023 John F. Morten Memorial Award for Exemplary Lake Stewardship on July 15 at the Winter Harbor Way Association Meeting. NH LAKES Board Chair Bruce Freeman and President Andrea LaMoreaux presented Steve with the prestigious award.
"While a record number of amazing individuals were nominated for the Morten Award this year, the selection committee was unanimous in bestowing this award upon Steve," explained LaMoreaux.
"Steve's contributions are numerous, and he has been unselfish, giving of his time, talent, and treasure," commented Freeman. "We're confident that his contributions to the Mirror Lake community and beyond will continue to grow and live on for years to come."
This special award was created in 2002 in honor of the late John F. Morten (1914—1989). It was Mr. Morten's lifelong work to give generously his time, talents, and financial resources to help protect New Hampshire's lakes and ponds that he loved so much. He was a person who made things happen—an out-of-the-box thinker, leader, and activist who was organized, determined, and persistent in the achievement of any task. In tribute to his vision, dedication, and commitment, NH LAKES established the John F. Morten Memorial Award for Exemplary Lakes Stewardship.
For a listing of previous Morten Award recipients, visit nhlakes.org/awards.