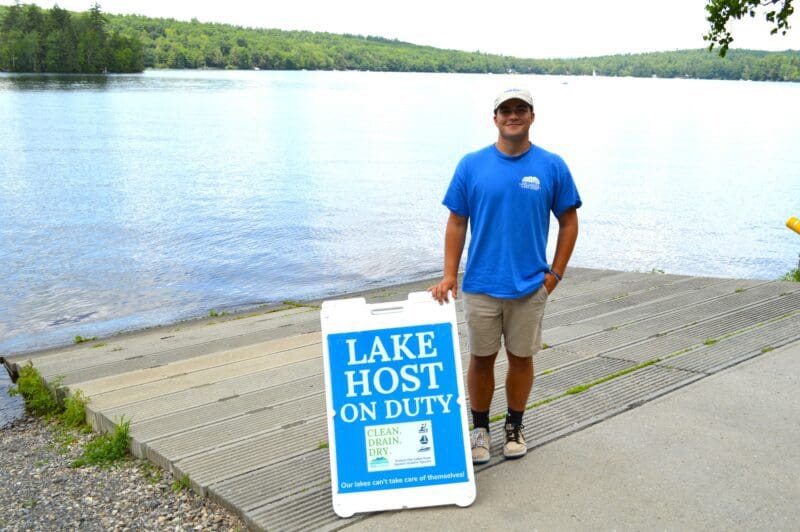 In July, Lake Host Vinnie Pierannunzi spotted some suspicious weeds trapped between the hull of a boat and trailer about to be launched into Laurel Lake. With the boater's permission, Vinnie snagged the weeds, bagged and photographed them, and sent them off for identification.
It was an invasive species! The New Hampshire Department of Environmental Services confirmed it as Eurasian water milfoil, a tough plant to eradicate once it gets established. Thanks to Vinnie's thorough inspection, the milfoil was removed before it could sneak into and infest Laurel Lake's pristine waters. 
"Laurel Lake has a very close-knit community—it makes my job feel like more than just protecting the lake from invasive species."—Vinnie Pierannunzi, Lake Host, Laurel Lake
"I had never seen milfoil before, but it looked suspicious. I've seen lots of weeds and vegetation in other lakes in New Hampshire, and I don't want that happening at Laurel Lake," Vinnie told NH LAKES. "I just got my boating license and love to fish, so clean lakes are important to me."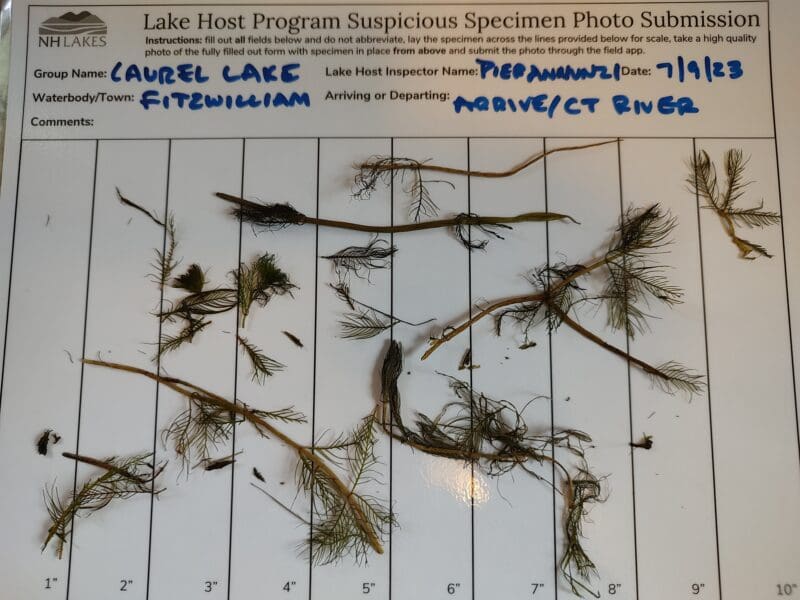 Vinnie's been visiting Laurel Lake in Fitzwilliam his entire life. So when he got the chance to be a Lake Host, he didn't hesitate to take the job protecting his favorite lake.
Everyone who visits Laurel Lake knows they are in good hands with Vinnie on the job. 
"Vinnie's dedication to his job is truly inspiring, and his enthusiasm for protecting the lake is contagious," said Chip Yensan, Laurel Lake's Lake Host Coordinator. "Laurel Lake has been invasive-free for the 42 years I have been here, and I want to keep it that way."
Chip grew up on a lake in Massachusetts that had milfoil and saw firsthand the challenges the residents and town faced managing the invasive species. 
"Managing milfoil is a continual issue you need to address, and the financial cost is high. Forty years later, they're still dealing with milfoil in that same Massachusetts lake. I've seen how managing an invasive species can damage the lake and lake life." — Chip Yensan, Laurel Lake Lake Host Coordinator
Laurel Lake has had a long history of lake conservation, thanks to the work of the Laurel Lake Association. 
"The people are really special around here," Vinnie told NH LAKES. "The residents and the boaters are so friendly, and many of them know to clean, drain, and dry their boats and gear to protect the lake."
Thank you, Vinnie, for being a passionate and skilled Lake Host working to stop the spread of invasive plants and animals in our lakes! 
See All This Season's Saves
Check out all the saves made by NH LAKES Lake Hosts here…